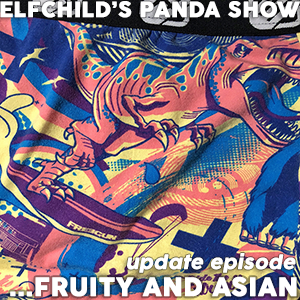 The year's been an absolute cluster. The intro bit is a downer, but I promise the rest of the episode is upbeat from that point. Hang in there.
Download link:
Right-click and save…
Show stuff:
Voicemail line – 909.742.9268
Twitter – http://twitter.com/pandashow
Instagram – http://instagram.com/elfshow
Links:
• Love, Simon
• "Two Canadians and an Australian" [Youtube]
• Sword Art Online: Ordinal Scale
• What the Duck the Series [MyDramaList]
This isn't a comprehensive list by any means, but it does include numbers for the majority of our listeners (based on basic data from our hosting company).
US: National Suicide Prevention Lifeline [1-800-273-8255]
|| Youth-aimed: TrevorLifeline [866-488-7386]
|| Trans-aimed: Trans Lifeline [877-565-8860]
UK: Samaritans [116 123]
Canada: Crisis Services Canada [1-833-456-4566]
|| Trans-aimed: Trans Lifeline [877-330-6366]
Mexico: [525-510-2550] (Admittedly, I have very little info on this one and the people behind it, but the number itself popped up on nearly every page I could find regarding lifelines in Mexico.)
Japan: TELL Lifeline [03-5774-0992]
China: Beijing SRPC Hotline [Landline: 800-810-1117 / Cell: 010-82951332]
*For the record, the drink was called Jurassic Island.